This Fiscal Proposal Might Put a Smile on Mario Draghi's Face.The European Commission has a message for euro-area countries: it's time to get fiscal.

With a slow recovery and downside risks in the macroeconomic environment "there is a case for a moderately expansionary fiscal stance for the euro area at this point in time," the Commission said in a "communication" published on Wednesday.
Its prescription: a fiscal stimulus of up to 0.5 percent of euro-area economic output next year. That extra 50 billion euros ($53 billion) would reduce slack in the economy while avoiding any overheating.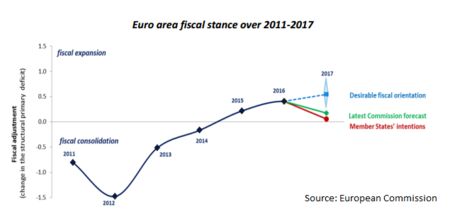 Oh, and it would also support the European Central Bank in its slog of trying to push inflation back to close to 2 percent. (Reminder: consumer prices have been growing way below that pace since early 2013). That sort of "pragmatic and prudent" fiscal boost would close a quarter of the gap between the forecast core inflation and the central bank's objective in 2017, according to European Commission's pitch.
This could be music to the ears of ECB President Mario Draghi. With a not-too-subtle hint at Germany, he has repeatedly urged euro-area governments with fiscal space to use it. Sounds like he has an ally in his cause.
But what would it take to go all the way and hit its target in the next two years? A lot more, according to Goldman Sachs economists. Their models show between 1.9 percent and 2.5 percent of extra fiscal spending would be needed just next year.
That sounds like a tall order in the the 19-member economy, which is collectively already running a deficit. Still, pragmatic and prudent might be good for starters.
Source : link